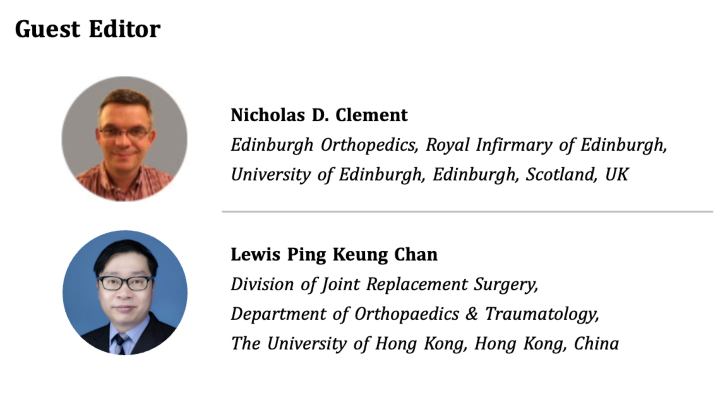 Background
The COVID-19 pandemic has had a significant worldwide effect on healthcare systems and the effect on arthroplasty surgery is no exception. During the initial waves of COVID-19 there was disruption in the provision of arthroplasty surgery, then during "re-start" there we numerous protocols for screening and isolation. Some units developed day-case arthroplasty to aid throughput and avoid hospital stays. However, some healthcare systems are still trying to catch up and address the backlog of patients still awaiting arthroplasty surgery. Delay in arthroplasty surgery has had a negative impact on our patients with deterioration of physical and mental health. However, COVID-19 has had some positive effects on arthroplasty with the development of new ways of working.
Goals
This edition looks to cover both the positive and negative effects that COVID-19 has had on arthroplasty patients.
Scope and specific themes
The scope is broad and can encompass all aspects of patient care involving arthroplasty patients, from preoperative clinical assessment to follow-up of the patient. The area may include:
Remote assessment
Day-case arthroplasty surgery
Preoperative protocols
Pre-habilitation
Effect of delay to arthroplasty
Submissions of both commissioned and non-commissioned content should be formatted according to the journal's guidelines. All manuscripts will undergo standard peer review, and must be submitted through Editorial Manager.
Submission Deadline: May 31, 2024